Modern design & old craftsmanship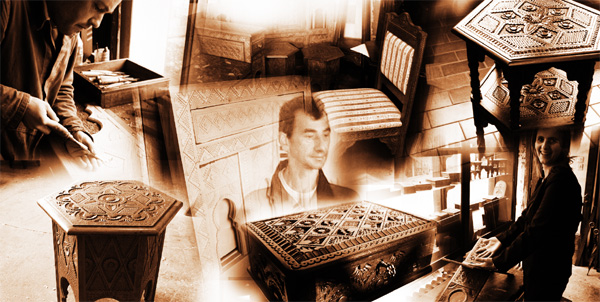 "Zanati" an ancient tradition of handicrafts in metal, leather, wood, textiles, shoes, gold or carpets can be found throughout Bosnia and Herzegovina. You are most likely to find these authentic objects in the old part of town, especially in Sarajevo, Mostar, Travnik and Banja Luka. As well in some smaller trading towns like Visoko, Konjic and Jaice.
There are the well-known "tabhana", or leathersmiths, from Visoko, the "grncari" of Lijeseve with their famous clay pottery or the wood carvers from Konjic where a long tradition of wood carving has been passed on from father to son. Buying authentic, local handicrafts offers new incomes to women and people from the rural areas and protects a rare cultural heritage.
On the other hand more and more young designers show up with new ideas for fashion or furniture.
Modern design & old craftsmanship:
Citizen Society "Old Craft" of Canton Sarajevo
Visit their website. The association's aims and objectives are primarily the preservation, conservation and promotion of the old crafts classified by decision of the Sarajevo Cantonal authorities as low-earning or loss-making and with a tendency to die out.
Citizen Society "Old Craft" of Canton Sarajevo
Veliki Čurćiluk 4,
71000 Sarajevo
Bosnia and Herzegovina
Tel.:+387 (0)33 233 058
Fax:+387 (0)33 233 058
eMail: zanati@bih.net.ba
web: http://www.starizanati.co.ba/zanati/english/index.htm
Brothers Niksic – wood craftsmen from Konjic
Konjic has long been known for its wood craftsmen. Brothers Niksic is one of the few firms left that continue to pass on the family trade from father to son. The first craft shop opened by the Niksic family was in 1935 although the family had been craftsmen long before that. Their work is mainly done in walnut and you can order almost anything you like.
Brothers Niksic
Varda 2
88400 Konjic
Bosnia and Herzegovina
Tel.:++387(0)36 725 239
Emina Husedzinovic – fashion designer, Sarajevo
Emina Husedzinovic was born on June 17th 1973 in Banja Luka. She graduated from the Faculty of Textile Technology, Department for Projecting and Textile and Fashion Design in 1999 in Zagreb. The theme of her graduation project was "Aspects of Coat-dresses in Haute Couture". She nostrificated her diploma at the Manchester University, Department of Textiles and Fashion. Emina is an active member of: Citizens Association ULUPUBIH, Association of Models and Designers of BH, URBAN-ETNO, where she acts as a president.
Visit:
Desgin by Emina – Haute Couture
ABC-Models – BH Fashion Week
Awards:
On April 6th 2004, Emina was awarded by ULUPUBIH for her collection "Tolerance in fashion".
At the 21st BH Theaters Meeting, in November 2004, she received the recognition for the best costumes for the play "Karabeg".
In December 2004, Association Libertas awarded her for the affirmation of fashion and the most successful designer from 2000 to 2004.
In 2005, at Zenica Fashion Week, she was awarded as the best designer and the best collection.
In 2005, she was awarded as the best designer by Association Libertas.
In 2006, Association of Fine and Contemporary Arts awarded her for the design in her three works.
Her dress was awarded as the second best at Miss Universe Contest in Ghana in 2006.

Contact:
Emina Husedzinovic
Azize Sacirbegovic bb/II
71000 Sarajevo, BA
Bosnia and Herzegovina

Tel: ++ 387 (0)33 – 521 450
Mobil: ++ 387 (0)61 – 203 567
eMail: info@designbyemina.ba
web: Desgin by Emina – Haute Couture

Shop:
Bellissima Designers Line
Unitic
Fra Andjela Zvizdovica 1
71000 Sarajevo, BA
Bosnia and Herzegovina
Istok Bratic – fashion designer, Sarajevo
He studied fine arts at Sarajevo's academy, Paris and London and finished his degree as make-up artist and became official Yves Saint Laurent beauty representative in 2004. Today he is working as independent fashion designer based in Sarajevo. He is known for mixing oriental and European elements in his fashion.
Visit:
ABC-Models – BH Fashion Week
Istok Bratic
71000 Sarajevo
Tel.: 061-709 290
mobile: ++387 (0)61 709 290